Melody Angel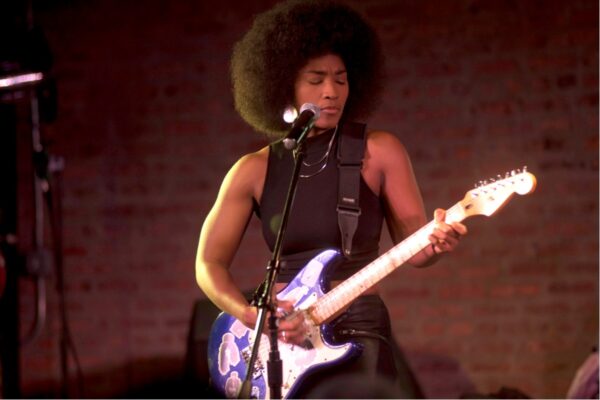 Melody Angel has appeared on 1 Big Blues Bender lineup.
2023
Melody Angel (her real name) is the complete package: gifted guitarist and multi-instrumentalist, songwriter, vocalist, arranger, and producer. Along the way Angel found time to launch a successful theater and film acting career and received international acclaim at the Cannes Film Festival in France. The Chicago Reader newspaper called her "The Future of the Blues." The Southside Chicago artist is indeed navigating a forward-looking musical path while integrating the legacy of classic blues.

Her music encompasses many 20th-century American genres, including Rhythm & Blues, Rock, Folk, and Funk, all layered on a strong bed of Chicago blues.

Angel's music is her own. She imbibes the blues but through the prism of her own creative forces. She gets that trait honestly as a relative of Chicago blues icon, Otis Rush. Rush, along with Magic Sam and Jimmy Dawkins, helped create the fabled "West Side Sound" in the later 1950s -- a sound that heralded a new and innovative blues that embraced R&B and jazz and often incorporated horns.

When Angel started playing guitar at age 15, her mother Stephanie shared about cousin Otis. As a child her mother, who is a gifted singer in her own right, enjoyed sleepovers with the Rush children at their home. She recalls Otis jamming in the living room with other blues icons like Muddy Waters, Willie Dixon, and Howlin' Wolf. She was excited about learning of her famous relative. "I wanted to see him then, but his health wasn't good. My mom said we would go see him when he felt better, but it never happened."

She laments, "I looked him up on YouTube and could not believe the old man I knew growing up was the Otis Rush! I never got a chance to talk to him about it and tell him I was trying to play the blues too. I think he would have got a kick out of that."

On where she sees the direction of the blues, Angel is both optimistic and ready to embrace the future. "I always have hope that the blues will live on. The blues is what all great American musical genres are made from after all. Everything starts with the blues.