The Record Company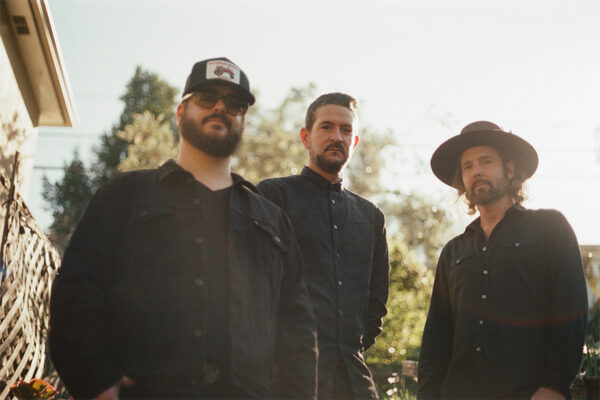 The Record Company have appeared on 1 Big Blues Bender lineup.
2024
"I ain't ever givin' up…"

—DANCE ON MONDAYS
At 2pm on December 19, 2022 — the dreaded final day of the year in the music business — The Record Company got a telephone call from the, um, record company. It was the head of the label, who'd been sitting on their new demos for months, while the band sat in limbo. It was a scene out of a movie about the bad luck bands sometimes have with big record labels: a pleasant "hello" led to a Charlie Brown's teacher murmur that amounted to "you're dropped from the label, Happy Christmas, fellas."

Apparently, the label was going "in a different direction" — Hollywood code for "The Record Company's many radio hits and Grammy nomination are no guarantee that you're going to push further into their idea of mainstream, or that you're great at TikTok."

"It was tough to swallow," says bassist Alex Stiff, "because we had already set out to write the most stripped-back and raw record we'd done in years, and they had demos of this new music, and ultimately dropped us. Combine that with some new economic realities, a canceled tour, and we really felt like everything was crashing down at once."

On The 4th Album, The Record Company see that rejection as a rite of renewal, a way to cleanse themselves, to start over. They head back to their roots: creating the raw, self-produced, blues-based music that in past years earned them multiple Billboard #1 AAA songs, a Grammy nomination, and brought them from playing small clubs to arena tours supporting John Mayer and Bob Seger.

These "roots" would include half-working dumpster guitars, no-name drum sets from garage sales, no click tracks or studio tricks, all recorded in the bass player's living room. "Almost every band you love at some point tends to drift away from that raw spark that made them unique in the first place," says drummer Marc Cazorla. "They search for bigger sounds, bigger budgets, more expensive instruments, producers, mixers, etc. We've been subject to that as well, but now we've come back full circle to what matters most: making raw, honest music that moves peoples' souls."

The band titled the new collection "The 4th Album" to signify the start of a new chapter. When the needle drops, we hear TRC lead singer Chris Vos spit out an offhanded quip: "I ain't ever givin' up," an impromptu line that is an instant touchstone for anyone who's ever seen their dreams fading, and then been able to regain hope. That line quickly became a call-to-arms for the band and a rock-solid theme for this album.

Says bassist Alex Stiff: "We all want to be moving on the steady rise forever, but then one day that momentum stops, and you're not prepared for it. This song is very autobiographical as to what we were going through. Finding the answer required a lot of soul searching, but ultimately we found it through the music. For us, it was saying: 'I'm not doing a dance for anyone anymore.'"

On The 4th Album, the band uses the same microphones that have been dropped at bar gigs a few too many times, and the same tarnished 2008 computer with recording software mostly laughed at by today's standards. The album cover shows a hand-cut metal sign given to the band by a fan at a 2021 show in St Louis, Missouri. For the live show, the band is performing as a trio again, purposely scaling back bigger lineups they've used in the past. "We keep going back to a less-is-more philosophy with the new songs, and that translates to the show as well. The space between us is the 4th member," says singer Chris Vos.

On songs like "I Found Heaven (In My Darkest Days)," we hear Chris singing about walking a troubled path, but finding salvation in music, set to his harmonica and gospel roots wailing. "Talk To Me" displays a Motown-style drum and bass funk groove, while "Highway Lady" sets a 70's smooth AM Radio backdrop, with the city views seemingly far behind in the rear view mirror, singing: "Highway Lady, where we gonna go today?"

The 4th Album finds the band at peace with themselves operating as outsiders in an ever- changing musical landscape. "You're not going to find us posting goofy videos, salad recipes, or telling the internet what every song is about," says Chris. "We've had some ups and downs, but we've managed to find a way through it, and put it all back into the music."

The 4th Album is due for release September 15th, on Round Hill Records.